EFFECTIVE ENVIRONMENTALISM — PROTECTING THE WEST FROM ITS "PROTECTORS" (a re-post)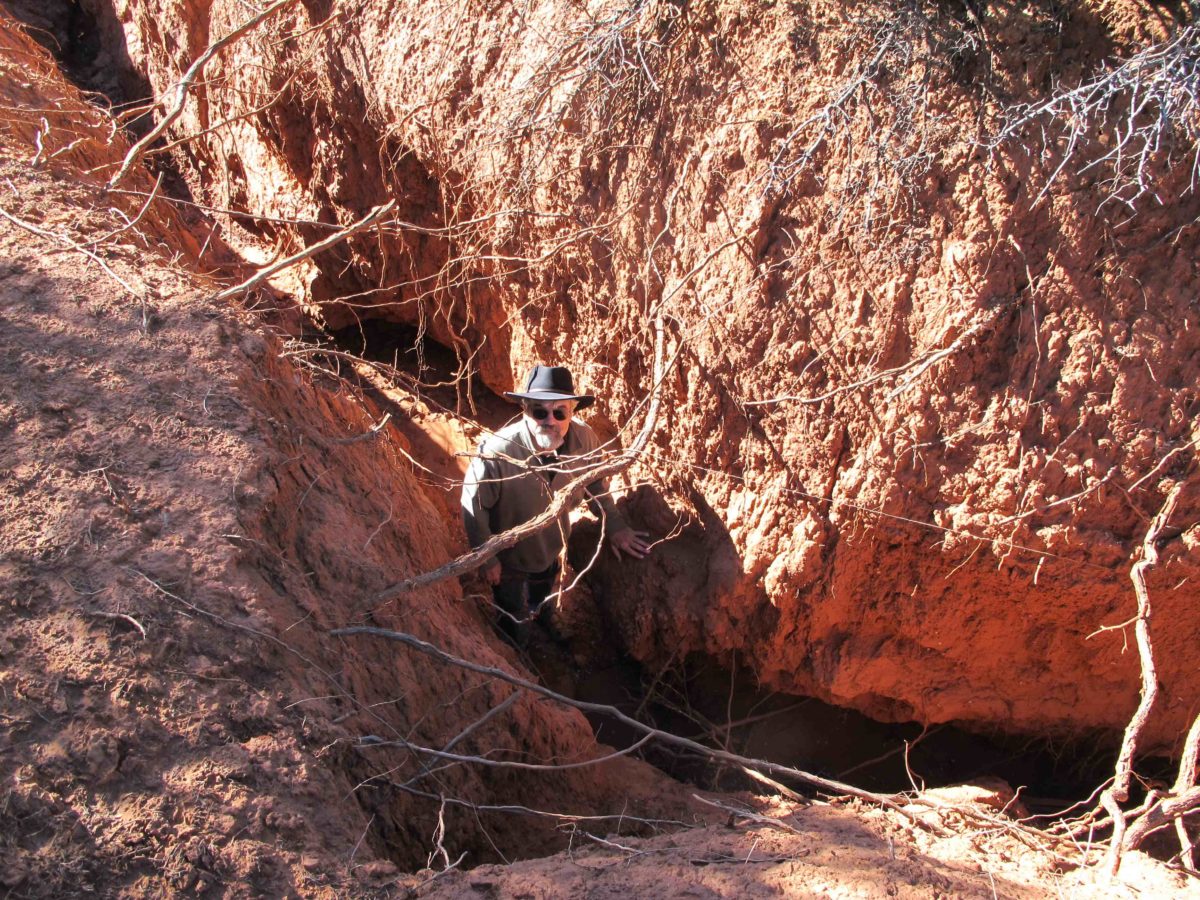 In 1980 when I first moved to the West, to Flagstaff, Arizona, one of the first things I did was become involved as an environmentalist and join the Sierra Club and, shortly thereafter, Earth First!. I was excited about my new home, about the mountains, canyons, rivers, and wide open spaces, and wanted to keep those things as spectacular, healthy, open and free as possible. At the time I arrived, one of the hottest environmental issues was grazing private livestock on public lands. Grazing livestock on land both public and private was claimed to be the most damaging activity humans had brought to the West. As one environmental group put it:
"The ecological costs of livestock grazing exceed that of any other western land use."
Livestock grazing was blamed for endangering species, destroying vegetation, damaging wildlife habitats, disrupting natural processes, and wreaking ecological havoc on riparian areas, rivers, deserts, grasslands and forests alike.
What most caught my attention about this campaign against public lands grazing were the photos of denuded, eroded, cowturd-littered landscapes. Those photos served as one of the most effective tools for communicating the damage described above to those, like me, who were most likely to be concerned and recruited.
Here are a couple:
To make a long story short, I got involved, wrote a couple of books about the topic (actually about environmentalists and ranchers working together), and ended up enjoying a fairly rewarding speaking career about the topic.
Over time, the furor over public lands grazing has lost much of its intensity. Although grazing continues on public lands, it is highly regulated and significantly reduced. In fact, it has been totally removed from many areas where it had been standard operating procedure for more than a century. Also, Global Warming/Climate Change has replaced it (as well as a number of other issues) at the top of the eco-issues hit parade.
Living in Arizona, and remaining just as concerned about the mountains, canyons, rivers, and wide open spaces that have been my home now for 34 years, I have continued to keep track of the areas I made such a big deal about as a wilderness advocate and crusader for "healthy ecosystems." As a result, I have something to report that may surprise you. It certainly surprised me.
The surprise is, the problems purportedly caused by grazing haven't gone away even where grazing has. In fact, they have become worse, so much worse that a significant portion of Western rangelands may be in worse shape today than they were when the campaign to protect them was at its hottest. What is different, however, is that the responsibility for the deteriorated condition of the western range has shifted — reversed, in fact. Now it is protection and regulation and the advocates of those policies that are wreaking havoc on our natural heritage.
This is something you have to see to understand — and to believe.
Having noticed the poor and deteriorating condition of the rangelands near my home in Sedona and on trips as far afield as Big Bend National Park in Texas and Jasper National Park in Canada, I started taking photographs to confirm my concern. First, I took photos of the most eye-catching (and mind-blowing) examples of degradation on lands that are now "protected" but were grazed in the past. That ignited my curiosity, and inspired me to start ferreting out old photographs of those exact same places while they were being grazed. These I located via local U.S. Forest Service offices, museums, books, and the internet. I even copied some from old movies (An old Elvis movie — "Stay Away Joe" was one of my sources).
One of the first "before and after" comparisons that caught my eye is illustrated by the following pair of photos from along a favorite hiking trail near Sedona. The first photo (courtesy of the Sedona Heritage Museum) was taken on 12/29/1957. Grazing was ended on this site shortly after this photo was taken.
The next photo shows the exact same place in 2013 after 55 years of protection from grazing. The mountain on the upper right in the first photo (Courthouse Butte) doesn't show above the trees in the second photo because the trees are bigger, and the point where I took the re-photo is lower than the original photo point, according to my rough calculations, due to 3 to 4 feet of soil erosion.
Next, I located some old U. S. Forest Service photos of old rangeland monitoring sites used to evaluate the effects of management (in this case grazing) on Forest Service lands. Here's an example — a photo taken in 1963, also near Sedona, of an area that had been grazed for more than 50 years.
In 1963 the grass was short (most likely it had recently been grazed), but you can see the plants were close together, the coverage was fairy complete, and there was little evidence of erosion.
I even located a photo of a 3 foot square frame by means of which the plants in a certain part of the transect were identified, recorded, and mapped to enable the USFS to accurately read and record any change that happened.
Forty-nine years later (2012) I took a photo of that exact same site. I even relocated (and re-photoed) the frame. According to the best information I can find, grazing was removed from this area "before 1981," so, at the time of the re-photo, the area had been protected for 30+ years. To shed a little more light on what is happening here, I included a photo of the land just to the left of the monitoring site. (That's the same location stake.)
Interestingly, a U. S Forest Service Range staffer, upon visiting this site with me in 2013, and comparing what she saw with the 1963 photographs said, "Well, The grass looks healthier now than it did back then, except where there isn't any."
"Where there isn't any" is just about everywhere. Here's a photo showing a little broader perspective on the matter.
To give a bigger picture of what's happening here I've included three photos from nearby on the same grazing allotment.
From the look of the exposed tree roots and freshly toppled trees it appears safe to say that erosion continues in this area in spite of the fact that it is being protected and has been for 30+ years. (I would also add it's just as obvious that protection isn't doing much to heal the area.)
Seeing devastation of this degree I couldn't help but wonder: Were the effects of "overgrazing" anywhere near as bad as the effects of protection? To answer that question, I started searching the Web for those denuded, eroded, cowturd-littered images that were used to make the case against public lands grazing. I wanted to compare the effects of the activity whose "ecological costs exceed that of any other western land use" with the impacts of the remedy that was supposed to return the West to conditions the protectionists described as "pristine nature."
This is where things really got surprising — the great majority of those "cows destroy the West" photos were mild, ho-hum, no big deal in comparison. Some even looked like positive impact photos.
Here's the collection of images that resulted from one of those Google searches.
When that collection of photos showed up on my computer screen I couldn't help but wonder: Is this what so outraged me and recruited me thirty years ago? Is this the best they've got?
It must be, I concluded. These are the images that were published in books like Welfare Ranching, and Waste of the West, These are the photos that are on the websites of the groups still making the case to remove grazing from public lands.
So, If environmental groups were so concerned about the effects of grazing on public lands in this photo, for instance:
Why do we not hear a peep from them about the apparently much more damaging effects of protection on public lands in, for instance, this photo?
Another comparison — same question:
If environmental groups are concerned about the effects of grazing on public lands in this photo:
What about this?
What do these comparisons tell us? Well, one thing they seem to make clear is that, for those of us who are truly concerned about restoring and sustaining the ecological health of the rangelands of the American West, we're spending our money and our energy in the wrong place. Instead of campaigning to protect the public lands of the West from grazing, we ought to be protecting them from, well, "protection," which may qualify as the real "most damaging activity humans have brought to the West"
One thing that qualifies protection for this distinction is that the damage it causes is not only more severe, it is more permanent — more permanent because it is a one way street. Ask protectionist groups what they can or will do to heal the damage shown in the photo of me looking up through those protected tree roots or that fellow peering out from that huge eroded gully in the White Hills Study Plot, and the great majority of them will tell you, "Protect it longer." One activist has told me, "It might take more than a lifetime." The White Hills Study Plot has been protected for 78 years. That sounds like a lifetime to me.
I've written books (and articles for this magazine) about ranchers who have healed damage greater than anything shown among the "grazing destroys the West" photos by using their management practices and their animals as the means to perform that healing. In fact, I've done some of those restorations myself (I have some dynamite photos). Those restorations took days instead of lifetimes.
To their credit a few environmental groups and collaborative associations are using those grazing-to-heal techniques today. I suspect that, in some cases, they're even using them to heal the effects of protection.
But to heal damage, you have to be able to see it, be aware that it is there, and you have to want to heal it.
Environmentalists have trouble seeing the damage they cause because they suffer from a type of blindness of which they have accused ranchers for as long as I've been involved in this issue.
Environmentalists accuse ranchers of being blind to the damage they cause to the land because they (ranchers) consider what they do (raise food for people by using resources they believe God gave us just for that purpose) so valuable and so righteous that they refuse to see, just plain ignore, or consider irrelevant the damage it causes.
This phenomenon — being rendered blind to the damage you cause by your own feelings of righteousness — is a more accurate description of an affliction that plagues the green side of the aisle. When environmentalists say, "We all want to protect the environment," they use the word "protect" in its vague general sense: "to protect from hurt, injury, overuse, or whatever may cause or inflict harm."
The idea that "protecting" in this sense could cause harm to anything doesn't make any sense. How could saving something from harm cause it harm?
If you peel away this blindfold of righteous semantics, however, as the photographs in this article have done, it becomes evident that the ecological impacts of "protection" may actually "exceed that of any other western land use" including grazing.
The implications of this are clear… If environmental groups and government agencies truly want to achieve their stated mission — to protect the environment from whatever may cause or inflict harm — they'll have to open their eyes to the damage caused by what they call "protection."
And hold this environmentalist panacea as accountable as any other land management method.
XXX
Here's an alternative final paragraph that is less functional but more fun:
The idea that "protecting" in this sense could cause harm doesn't make any sense. How could saving something from harm cause it harm?
If you peel away this blindfold of righteous semantics, however, and consider the comparisons included in this article, it becomes apparent that the ecological impacts of "protection" may actually "exceed that of any other western land use" including grazing.
The implications of this are clear… If elements of the protection industry, (environmental groups and government agencies) want to truly achieve their stated mission — to protect the environment from whatever may cause or inflict harm — they'll have to protect it from themselves.